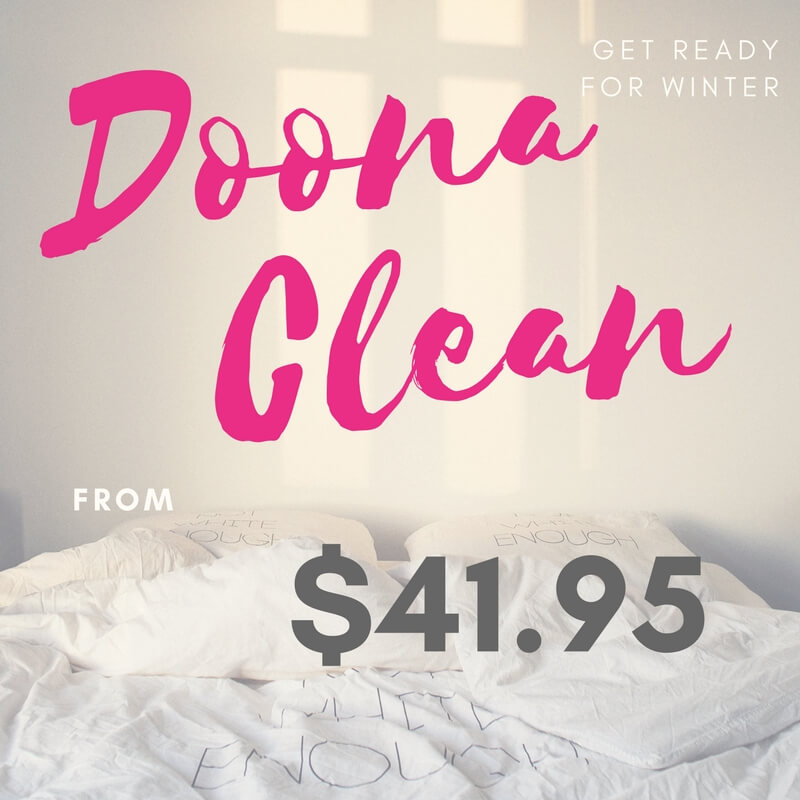 An autumnal chill has come upon us in the mornings and evenings, which can only mean one thing… WINTER IS COMING
Blankets are starting to come out of cupboards, and doonas are being dug out – BUT WAIT !!!!! – before putting them on your bed have you cleaned them???
"Should I really wash my down doona?!" you say. YES. "Why??" Read on to find out…
Down vs Synthetic
When it comes to both longevity and ease of cleaning, down wins hands down. (Sorry we couldn't help it!) Contrary to what you may think, synthetic doonas can be tricky to wash, yet down refreshes beautifully. And with proper care, your down duvet will last you a very many years (whereas a synthetic one may only last up to 10 years).
Natural fillings such as down are not only soft, light and comfortable, they also "breathe". By absorbing body moisture and releasing it in the morning when you air or shake out your doona, your body temperature is more easily controlled – allowing for a better night's sleep.
Synthetic doonas will of course keep you warm, can be hypo-allergenic and are significantly cheaper is some instances, however we do love a down doona where possible!
Cleaning Your Doona
Regardless of whether you use a synthetic or down doona, it is highly recommended that you clean your doona once a year. It's recommended to get your doona professionally laundered (especially if filled with down) to prevent any unwanted shrinkage or damage, as well as to ensure an even clean and thorough drying.
It is possible to clean your doonas at home, but typically only if you have a front-loading machine, and one that is big enough for the size of your doona. Martha Stewart has some great tips if you were thinking of undertaking the cleaning yourself.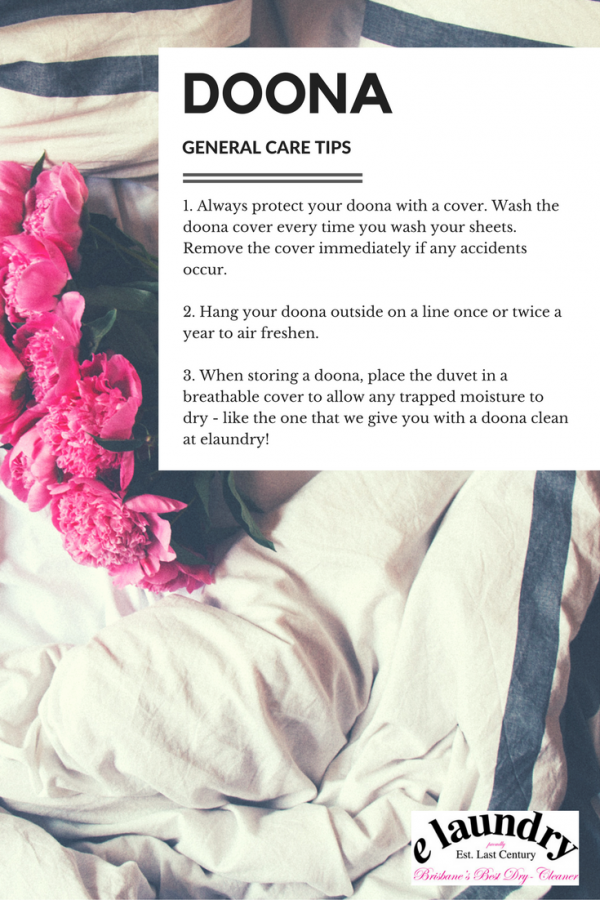 We Can Help
Some of you may have been savvy enough to have already brought in your doona for a clean at the end of winter, and you will now be pulling it out from the free storage bag that you would have received. However if this spring clean service eluded you, do not fear! You can bring in your doona to elaundry at any time for a clean.
The great news for this chore is that you don't have to lift a finger. Let us whisk your doona, blanket or comforter off your hands so that you don't have to battle with stuffing over sized duvets into tiny washing machines, or wait days for them to dry!
You don't even have to come into one of our elaundry Brisbane stores to order the doona cleaning service – simply request a Valet Pick Up and Drop Off service and we will come straight to you!
CLICK HERE TO ORDER A VALET PICK UP NOW