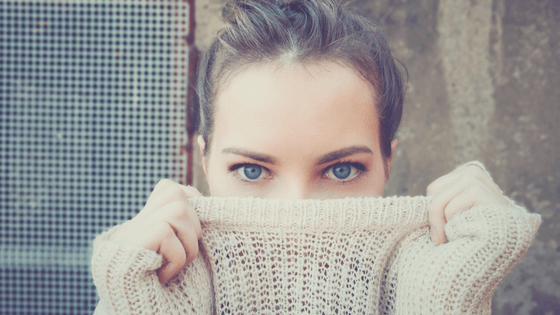 Ever wondered why your knitted jumpers don't even last a season before losing their shape?
With winter approaching and knitwear hitting the stores, you've probably started to put together your colder weather wardrobe; and knitwear, whether chunky of fine, is sure to feature somewhere in there. But do you find yourself buying your knits with slight hesitation?
Most of us have had a favourite new jumper which after a few of washes has felt stretched and worn, not making it through to the following winter. Yes we might check the item's label for care instructions when we first buy it, but often we only take gentle care if the jumper is made from wool or cashmere. If the jumper or cardigan is made from acrylic we think it must be a breeze to look after. Surely acrylic doesn't require special attention when being washed and dried, right? Wrong.
Acrylic is a fibre made from the unlikely combination of coal, air, water, oil, and limestone. It is characterised by its ability to stretch and conform to the shape of  the body and recover to its original dimensions once the tension is released. Garments containing acrylic fibers have become increasingly popular due to their reasonable price and availability in a wide range of bright, fashionable colors. It can be thought of as artificial wool.
What problems can I experience with acrylic knits?
Occasionally, when an acrylic garment has not been properly stabilised during manufacture (eg improper blocking or heat setting) it will suffer drastic changes in shape from normal wear and care processes, and may shrink as much as several inches after the first dry-cleaning. Unfortunately, there is no way a dry-cleaner can detect whether an acrylic knit has been stabilized to withstand a dry-cleaning process.
Once the shape of an acrylic item has been distorted, there is no way to restore the garment to its original dimensions. Acrylic knits that stretch or shrink in normal wear or care should be returned to the retailer or manufacturer.
Acrylics also have a tendency to stretch when exposed to high temperatures. So if the fabric is moist and experiences slight tension from steam or heat it can cause permanent distortion.
Acrylic knits that are bulky or have loose or open knit constructions are particularly at risk of permanent stretching and distortion through general wear. These garments have a greater tendency to become snagged or pilled during normal use too.
What can I do to make my fave acrylic jumper last?
Unfortunately, once an acrylic fibre stretches it's usually permanent, BUT there are some things you can do to care for your acrylic knits and stop them distorting in the first place. Read on to find find out what you can do!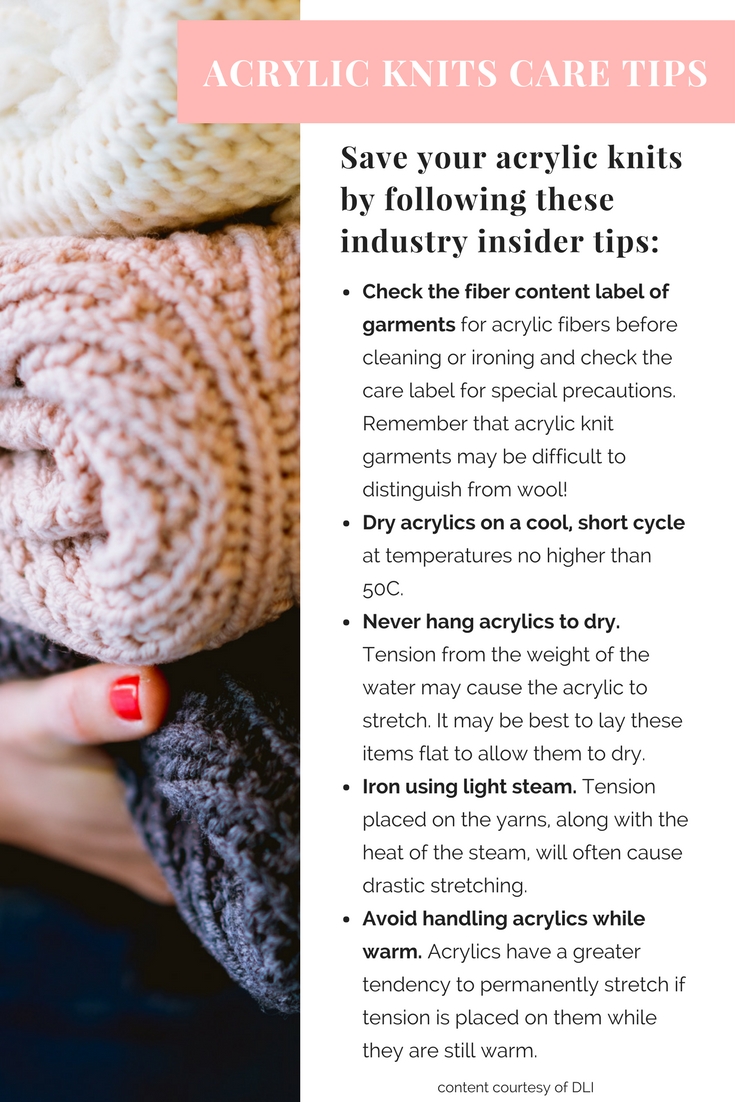 Have you had trouble with an acrylic knit before? What happened? Did you return the garment to the retailer or manufacturer?