A change of the seasons means out with the old, in with the new!
It's that time of year when we start peeling off the layers, jumpers get relegated to the back of the wardrobe and scarves get lost behind drawers. But whilst the arrival of spring often conjures up a cleaning spree, this doesn't always include our wardrobes.
So this year lets give the term Spring Clean a bit of a shake up and throw a wardrobe re-shuffle into the mix!
Spring Clean your Wardrobe – Let's Begin!
Giving your wardrobe a bit of a spring clean doesn't have to be a boring task. Pop on your favourite tunes, whip everything out onto your bed and let the rummaging begin!
The easiest way to go about things is to pop your clothes into piles: keep, donate, discard (or recycle if possible) and save as hand-me-downs. Then go through your keep pile again. Yup, that's right, you may have nostalgically held on to that beloved jumper but did you wear it this winter? Did you even wear it the winter before?? If the answer is no to at least one of these questions then its time to get tough (ie. honest) and pop the item onto one of your other piles.
Packing, Organising & Storing your Clothes
Some of you will have the luxury of a separate wardrobe in a spare room for storing your off season clothing, and some will simply be very nifty at re-jiggling the space that you having in your existing wardrobe – whichever camp you fall into, there are simple clothing storage solutions that are readily available to all.
Don't Forget: Be sure to clean all your clothes before packing them away into storage. Stains can become harder to remove over time so you don't want them festering on your clothes for too long! Avoid using any starch or fixing after washing as these can attract insects.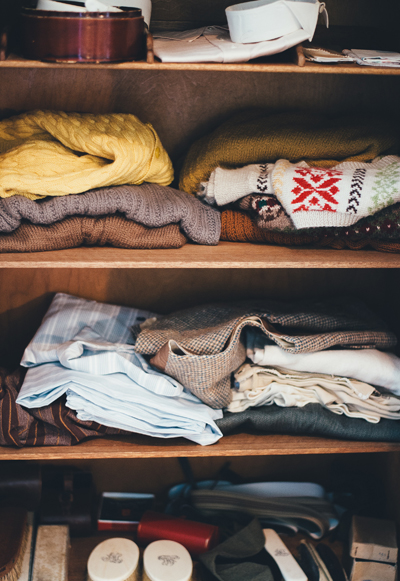 Hangers:
If you're one who is blessed with space and are storing last season's clothes in a separate wardrobe then hangers will most probably be your main storage accessory. And even if you're not using a separate closet, you may still need to keep some items hanging.
Top Tips: avoid wire hangers // use shaped hangers for items such as jackets to support the shoulders // hang skirts and trousers by the waistband // use padded or flocked hangers for silky fabrics
Clothing Storage Bags:
When hanging your clothes for a while it's advisable to keep them covered with fabric storage bags – just avoid using the plastic ones from your dry-cleaner where possible! Plastic prevents air from circulating and therefore may cause moisture to build up over long periods of time which could damage your clothes.
Top Tips: wash your fabric storage bags before use each season to remove dust and mold spores //  re-use 100% cotton pillowcases and sheets as cover for your clothes by cutting a small opening for hangers to fit through
Storage Boxes:
Many items, such as knitwear, should be folded rather than hung. Cardboard or plastic boxes may be used, but be sure to choose them wisely. For cardboard boxes only use acid-free containers as other types may leach acids that can cause yellowing and stains on your clothes. For safe storage within plastic boxes, they must be made of cast polypropylene. Just look for the number 5 inside the recycling triangle or the letters PP.
Top Tips: clean plastic boxes and line with acid free tissue paper or 100% cotton sheets to fragile items touching the plastic
Check out these top tips for how to store your clothes each season…
When that first chill hits the air next autumn, you'll be glad you took some time now to store winter clothes correctly!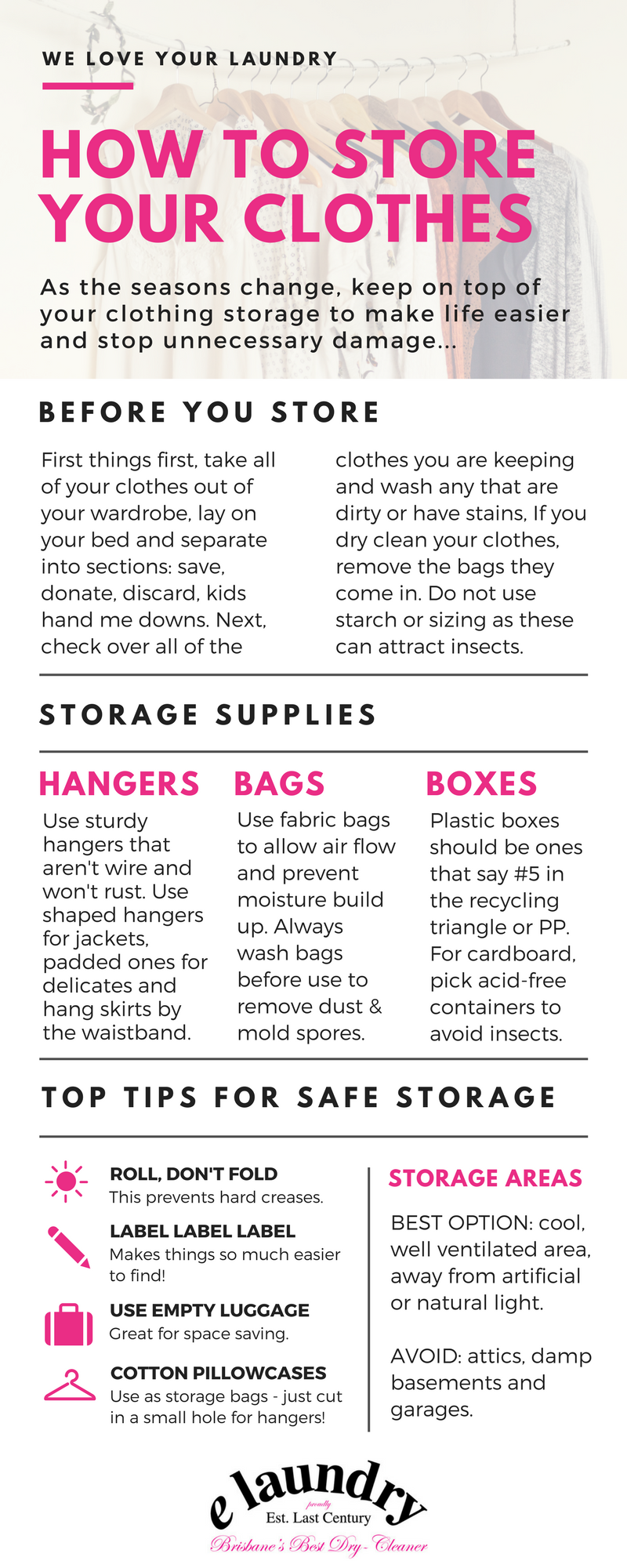 How do you normally re-organise your wardrobe for a new season? Do you pack away your clothes in a particular order? Or are you new to the storage solutions mentioned above? 
Share your stories and tips below.