Get your holiday washing done at elaundry
Let us whisk those holiday blues away! Now offering Sensitive Skin Dry-Cleaning too!
Holidays are great fun, but when you or the kids get into the swing of things it's easy to forget about the chores you may encounter in having to removing dirt, sweat or stains upon your return. Which is why we're prepared – so that you don't have to be!
Order ahead to beat the laundry rush after a long weekend or the week before school starts. 24 hour turnaround on laundry and 48 hours on stains if required.
You will receive a free book of Quick Tick Tags with your first dry-cleaning order. But if you run out, fill out the form below and you will receive a new pack free of charge!
Quick Tick Tags
Quick Tick Tags are a great way to tell us how you want your laundry done.
Simply fill in your order requirements, put the tag with your laundry, and either drop it at the counter or leave it at your door for us to pick up, and your laundry will be done exactly as you like it. A great way to sort out your laundry and dry-cleaning mess!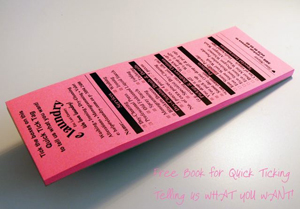 We've Got You Covered
Some of the more difficult stains can be encountered whilst being active on holiday, which is why getting elaundry to take care of your holiday laundry means no more headaches when trying to get those nasty stains out!
Our Specialist Services:
Ski Gear: We offer a specialty dry-cleaning service to remove all that perspiration inside your seams and possible UV and abrasion on the outside!
"De-sand": No-one wants sand all over their house which is why we include "De-Sanding" as part of the Holiday Laundry Service.
Tough Stains: Have grass stains or tyre black gotten onto your clothing? As a small extra service we can remove them, simply ask us for more details…
Bed Bugs: Managed to come across these nuisance bugs whilst away? Think about asking for a eucalyptus wash click for more info.
 elaundry Tub Deal (best deal in town!)
Fill an elaundry tub with two loads (separated into whites and colours!) of general household washing and opt to have your garments dried and hot folded so that you can rest at ease whilst someone else is doing all the hard work!
Your laundry comes home still warm and folded nicely flat in secure tub with lid. Your lid allows your laundry to be delivered in the rain or be left outside your door to greet you when home from work. All you have to do is put your fresh warm clean laundry away!
Pickup and Delivery Cost*
With a 24 hour turnaround we collect and deliver to your or your home. Delivery charges dependent on suburb, see the delivery zones below:
Zone 1 $11.95 one way – $23.90 round trip
Zone 2 $13.95 one way – $27.90 round trip
Zone 3 $16.95 one way – $33.90 round trip
Zone 4 $24.95 one way – $37.90 round trip
Zone 5 $34.95 one way – $69.90 round trip
PLEASE NOTE: For public holidays there will be a 50% surcharge for valet pickup/delivery fees.
*Prices stated are subject to change. T&Cs apply.
Gift Idea
The service is perfect gift idea also for your hostess who had you and your rabble stay over at their home across the holidays. A lovely gesture of a great holiday together.
Payment
We can process yours or their credit card via our website ordering system.
Paypal and afterpay are other easy and secure payment options that we offer.
Need laundry done for your holiday rental property?
At elaundry we can assist owners of holiday rentals and airbnb properties with laundry loads, the cleaning of bed linen & doona covers, earth & skin friendly dry-cleaning and more.
With our offerings of valet pick up and delivery services, as well as same day turnaround options, elaundry Brisbane can help you rest as easy as your guests!