Dry-Cleaning & Laundry for Patients and the Elderly
elaundry is a government aged care approved vendor
Did you know that hospitals have now stopped offering a personal laundry service? So when you're in need of a personal hospital laundry service, elaundry is here to help!
We are an aging nation and as good sons and daughters, we help our families in times of illness and age. Once a friend or loved one is incapacitated in any way, be it a minor fall, elective surgery or a major operation, the first kind task to action for them, is their personal laundry.
Clean laundry creates a bacteria free, healthy home and encourages essential personal hygiene. elaundry offers a delivery service to homes, interim care locations and hospitals.
"Thank you very much for the excellent service. Very professional and good job. I will recommend you very strongly to other patients."  Paul  happy hospital patient laundry client
With a 48 hour turnaround, we collect and deliver to notable hospitals, and others upon request of course! Pick up and delivery is:
Zone 1 $11.95 one way $23.90 goods returned
Zone 2 $13.95 one way $27.90 goods returned
Zone 3 $16.95 one way $33.90 goods returned
Here is an example of to where we can provide respite care laundry services in Brisbane:
Wesley Hospital
Mater Hospitals
St Vincent's Kangaroo Point
St Andrews
All Respite Facilities
All Aged Care Facilities
We can process yours or their credit card via our website ordering form. You may also choose to make your payment securely through PayPal. Just contact us for details on this payment method.
Gift Idea
Loved one at home alone and in need of a little help? We collect and deliver to you or your loved one's home Monday to Friday. Fresh & clean laundry delivered within 24 hours.
The respite service is also a perfect gift idea for new mums and dads as it is one housekeeping duty out of the way to take extra good care of your new baby or sore back! Great also for Mums with older children as their laundry load is ever increasing and can mount up and create a disorganised home for all occupants!
The elaundry Advantage Plan
Whether you're starting up your own laundry valet business or hire aged care workers, benefit from our bulk client laundry plan.
Grow your own mobile business.
Wash client laundry from $40 and receive $5 back for each Wash, Dry, Fold*
Free travel mug or ceramic mug per Agent
*Applicable to agencies only.
Become an agent of elaundry for your office building.
Free valet service on orders of 5 or more.*
20% credit of your monthly spend to redeem against dry-cleaning and laundry.
*Each order value must be minimum $15.
Free Valet service.
20% credit of your monthly spend to redeem for personal dry-cleaning and laundry.
Wholesale rates for staff uniforms.
Wholesale wine from our sister company vineyard for your minibars and restaurants.
elaundry Tub Deal (Best Deal in Town!)
Make personal hospital laundry a breeze! Fill an elaundry tub with two loads (separated into whites and colours!) of general household washing and opt to have your garments dried and hot folded from only $44.95.
Your laundry is returned still warm and folded nicely flat in secure tub with lid. The lid allows your laundry to be transported safely, rain or shine.
Make Weekly Dry-Cleaning, Washing & Ironing Easy
If you would like to get your dry-cleaning, washing or ironing done by elaundry on a regular basis simply fill out the Quick Tick Tag, and leave with your basket of washing in store or at your front door (if opting for our Valet pick up and delivery service for Brisbane Metro) and we can quickly know how you would like your laundry taken care of.
Quick Tick Tags are a great way to tell us how you want your laundry done.
Simply fill in your order requirements, put the tag with your laundry, and either drop it at the counter or leave it at your door for us to pick up, and your laundry will be done exactly as you like it. A great way to sort out your laundry and dry-cleaning mess!
You will receive a free book of Quick Tick Tags when you request a regular service.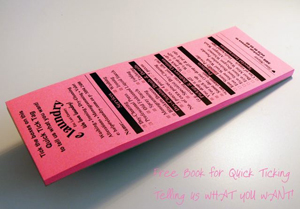 Products we recommend for a hygienically clean home: