Dry-Cleaning Services Brisbane
Dry-cleaning is the process of cleaning using a solvent other than water. Using specialised equipment and cleaning agents, the dry-cleaning process expertly removes dirt and stains from fabrics.
elaundry uses modern machinery and safe cleaning products to professionally dry clean your clothes; and due to popular demand we now offer a Sensitive Skin Dry-Cleaning option too, this earth and skin friendly alternative is great for people with allergies or skin sensitivities. It's available for any garments labelled with H, F or P.
Each and every garment dry-cleaned by elaundry is finished to an immaculate standard, extending the life and keeping the shape and style of your clothes. Your whites will be whiter and your brights brighter with our premium dry-cleaning service.
We pay impeccable attention to detail and ensure that all care labels and personal instructions are followed. What's more, each garment is individually inspected for stains, fine trims and embellishments to remove and avoid damage in the dry-cleaning process.
Queensland's ONLY Sensitive Skin Dry-Cleaner!
SAME DAY DRY-CLEANING BRISBANE
In a hurry?
Did you know we provide a same-day dry-cleaning service option Monday to Friday? Deliver your dry-cleaning in-store before 9:30 am and it will be ready for collection after 4:30pm that day.
Learn More About Our Same Day Service
Sensitive Skin Dry-Cleaning
We thought long and hard about choosing a gentle dry-cleaning solution that we and our customers (especially those with allergies or skin sensitivities) could trust. Our new Sensitive Skin Dry-Cleaning alternative not only allows skin to be happy but leaves a greener footprint too, all without compromising on the quality of the clean. This option uses Sensene – an inherently biodegradable modified alcohol solution – that has low aquatic toxicity and no smell, keeping sensitive skin happy, and making clothes softer too!
We have also ensured that this earth and skin friendly dry-cleaning option is available at an affordable price point – so that our customers won't ever have to fear excessive dry-cleaning bills.
Are Green Earth & Sensitive Skin Dry-Cleaning the Same?
NO.
GREEN EARTH is 100% pure cosmetic grade silicone and is degradable back to its natural form if left long enough. When handled in the right way it has a great result dry-cleaning clothes.
SENSITIVE SKIN DRY-CLEANING uses Sensene: an inherently biodegradable solvent based on modified alcohols. It's been formulated to be soft on fabrics whilst retaining an amazing cleaning ability. It leaves no nasty smells and is safe for our environment as well as your skin.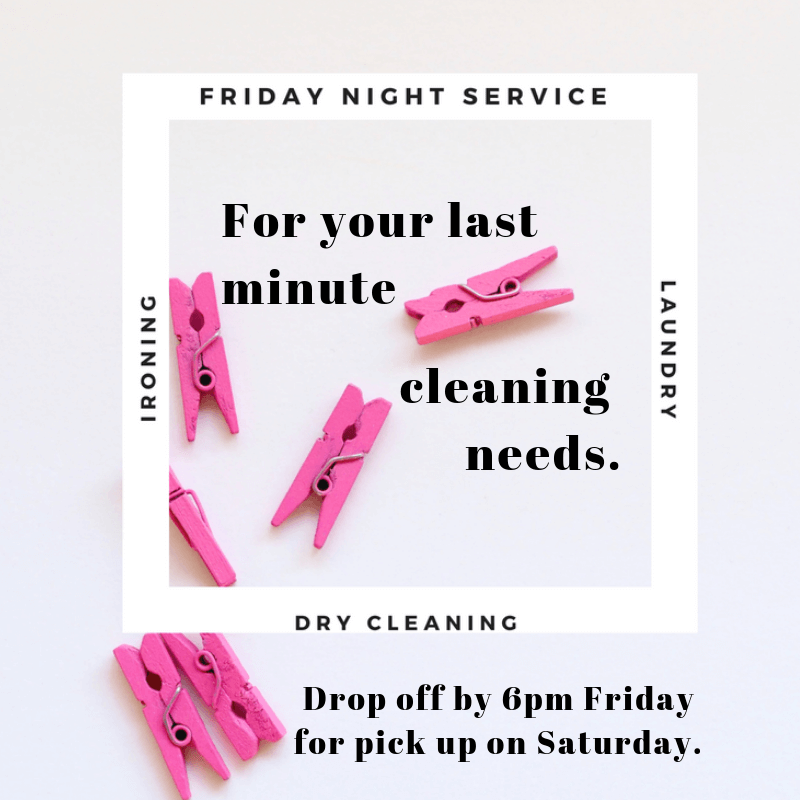 Leather & Suede Dry-Cleaning
We dry clean your precious leather and suede items, refreshing their appearance so that you can continue to enjoy them for years to come. Take a look at our specialist Shoe and Handbag Cleaning services too.
Fur, High Fashion/Vintage Dry-Cleaning
We regularly dry-clean vintage and antique garments, as well as designer brand names. We are expert at cleaning delicates such as silk, chiffon, lace, fur and embellishments and take special care to clean said garments carefully.
Sleeping Bag & Adventure Hiking Backpack Dry-Cleaning
If you're a regular camper or hiking enthusiast we know how grubby and dirty sleeping bags and hiking back packs can get. Don't throw away but revitalise them with a professional hand cleaning in store with custom embroidery available for personalising your bags. Ask in store for our Top Ten embroidery fonts.
Academic Gown Dry-Cleaning
Finishing your studies can be stressful so with end of semester always around the corner spend some time stressing less with elaundry dry-cleaning for your academic graduation gowns. We can collect from your faculty and deliver straight to your event professionally pressed for you to impress.
Interstate Dry-Cleaning
Can't find the right dry-cleaner near you to look after a specific item? Don't panic, just send it to us! We accept specialist dry-cleaning garments and accessories from interstate. You pay for return postage, we do all the hard work getting your items back into shape!
Mascot Dry-Cleaning
Your sports or brand mascot professionally drycleaned and deodourised from $69.95 available throughout the year. We happily consult on repairs and finer alterations such as tails fallen off, eyes coming away or heaven's forbid an entire arm torn off. We can even collect from your offices and deliver straight to your venue or event.
Has mould invaded your wardrobe?
So many of our customers come in looking for help with mould stains on their clothes! Luckily not only can we help with cleaning suits, gowns, shoes, bed linen and everyday clothes, but we also have a super product to help stop that pesky mould from returning: Vrindavan Mould Solution Spray
Buy Vrindavan Mould Spray Now
Need laundry done for your holiday rental property?
At elaundry we can assist owners of holiday rentals and airbnb properties with laundry loads, the cleaning of bed linen & doona covers, earth & skin friendly dry-cleaning and more.
With our offerings of valet pick up and delivery services, as well as same day turnaround options, elaundry Brisbane can help you rest as easy as your guests!