Tailoring, Alterations & Made to Measure
Seamstress hours for both Clayfield & Stones Corner Stores: Mon – Fri 8am – 6pm // Sat 8am – 12pm
Our professionally trained and experienced tailors and seamstresses will meticulously mend and alter your garments to your requirements so you always look your best. No matter how lovingly you take care of your clothes, there comes a time when fabrics tire. When this happens, our team of skilled Brisbane dressmakers can remake them for you.
As part of our total care concept, while we're taking care of your of dry-cleaning, washing and ironing, if we see a hem coming down, a button missing, or anything else that needs mending, we will mend it for you on the spot!
We also provide a made to measure garment service, where our dressmakers draw up patterns designed around your shape, fabric and desired style and construct a look for you from scratch. This is a wonderful option for those wanting to copy a favourite piece of clothing so as never to worry about it getting worn out, or just to have a fave garment remade in different colours and patterns!
We use professional machinery and materials to ensure that the end result is the finest possible. We do ask that you source your own zips, buttons and fabric for any made to measure garments.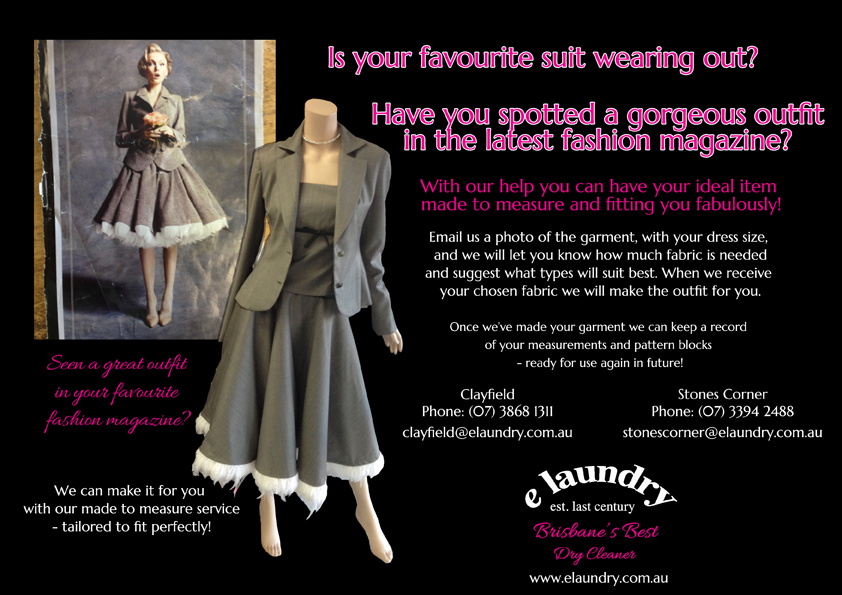 Invisible mending
Invisible mending is suitable for your most treasured of garments. We take care to find and mend small holes or tears due to wear, age or an unfortunate snag – bringing a tired garment back to life!
Pricing starts at $79.95, which is just a small cost in comparison to the investment of an item you love.
Bring your garment into elaundry for a quote today!
Did You Know?
We offer seamstress training…
Sharing the expertise of our elaundry seamstresses has begun!
We now offer corporate clients the option of coming in to elaundry in small groups to learn simple repairs.
We can teach sewing skills such as repairing buttons, sewing name tags, fixing holes in uniform seams and re-stitching elastics that have come undone on fitted sheets.
This training service is perfect for respite carers, hospice staff, home carers, nurses and larger businesses with uniform rooms.
Contact us today to find out more about how we can help grow the skills of your staff.
Contact elaundry