Washing & Ironing Service
elaundry has a number of luxury laundry services available to our discerning clientele that are both convenient and inexpensive. Whether it's work wear or home linen cleaning, we cater to your busy lifestyle by professionally washing, drying, folding, pressing or ironing your laundry for you.

Business Shirt Service
We cater to the busy professional to ensure a continual, clean supply of business shirts. Our professional washers and pressers use high quality machinery and starch products to provide you with the best possible service. What's more, we can come to you!
Let us pick up and deliver to your home or office for less hassle.
You can choose from the following range of starch options:
elaundry's famous e-crisp which is fabrics soaked and dried in old fashioned liquid starch resulting in the most amazing pillow cases, napkins and table cloths. (Toni-Maree loves this on all her household items as they make fabrics impervious to stains and enable them to hold their shape so much longer. It's a more formal elegant look! Finely finished she says…)
Scented linen water
Professional spray starch for extra crisp sleeve seams
elaundry Tub Deal (best deal in town!)
Our Budget Wash Dry Fold is super easy for the basic laundry lover. Fill an elaundry tub with two domestic washing machine loads of general household washing (separated into whites and colours!) and opt to have your garments dried and hot folded whilst resting at ease that someone else is doing all the hard work!
Your laundry comes home folded nicely flat in secure tub with lid. Your lid allows your laundry to be delivered in the rain or be left outside your door to greet you when home from work. All you have to do is put your fresh warm clean laundry away!
Don't forget to clearly mark your delicate items such as underwear or stockings and pop them in to a Delicate Laundry Bag for separate, delicate drying. Our washes are cleaned on a cold cycle and dry on a warm temperature for approximately 30 minutes so make sure all your items are dry-able at this temperature. If you're not totally laundry savvy then let us check each care label to make sure we clean your laundry as best possible, starting from only $3.95 per article.
Household Linen Cleaning Service
We specialise in home furnishings and linens, including:
Bedspreads
Blankets
Quilts
Mattress protectors
Doonas
Sleeping bags
Underblankets
Pillowcases
Sheets
Serviettes
Tea towels
Tablecloths
Aprons
Bath towels
In addition, we offer a Valet Curtain Cleaning Service – we will pick up and deliver your contents to your home, providing a complimentary take-down and re-hang service.
Dust mite and allergen washes are also available.
What is the difference between Pressing & Ironing?
The terms 'Pressing' and 'Ironing' are used interchangeably by retail laundry clients but you may not be aware that they are in fact two completely different methods to present your cleaned garments.
Ironing is the method where an electric iron is heated to a variable temperature based on the fabric type and the iron placed on the fabric, moving backward and forward on the fabric to smooth out wrinkles. The iron is lifted multiple times to smooth the fabric of the garment including flattening hems, plackets and cuffs.
Pressing is the method where a garment is placed on a cushioned bed powered by steam and the hinged top, also cushioned, is pulled down flat on the fabric and steam passed through the top and the bottom of the press to smooth out wrinkles. This blends the stitches of the fabric together and smooths puckering, particularly after alterations or repairs.
We always press delicate fabrics such as silk, wool blends, high quality cotton and polyester, rayon and other synthethics on the steam press. Where you would like us to press your garments a particular way, for example, creases in the front of ladies trousers, please tell us when you book in your garments so we know to press your garments to your specifications.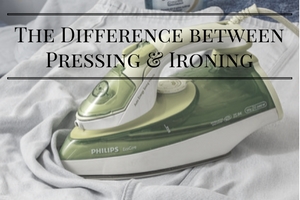 Make Weekly Dry-Cleaning, Washing & Ironing Easy
If you would like to get your dry-cleaning, washing or ironing done by elaundry on a regular basis simply fill out the Quick Tick Tag, and leave with your basket of washing in store or at your front door (if opting for our Valet pick up and delivery service for Brisbane Metro) and we can quickly know how you would like your laundry taken care of.
Quick Tick Tags are a great way to tell us how you want your laundry done.
Simply fill in your order requirements, put the tag with your laundry, and either drop it at the counter or leave it at your door for us to pick up, and your laundry will be done exactly as you like it. A great way to sort out your laundry and dry-cleaning mess!
You will receive a free book of Quick Tick Tags when you request a regular service.