Wedding Dress Service from elaundry
Wedding Dress Specialists
From the moment you come in for your wedding dress dry cleaning consultation you will know that your cherished dress is going to be looked after by the very best in Brisbane.
We draw upon many years of experience in dry-cleaning, stain removal, garment refreshes, tailoring, embroidery and alterations so as to be able to provide you with a complete in-house service.
We don't outsource services, and absolutely no third parties are involved in the handling of your dress. When you book in your wedding dress for dry-cleaning with elaundry you can be safe in the knowledge that it is our expertise and care that will be with your dress each step of the way.

Our full Wedding Dress Dry-Cleaning Package starts from $350, and includes vouchers for extra services such as a Free Suit Clean for the Groom, and discounts on Dry-Cleaning for the Parents of the newly married couple as well as the Bridal Party.
Wedding dress dry-cleaning with us includes: Veil cleaning, spot treatment of all stains inside and out, repairs to the value of $45, a free suit clean for your hubby, storage of your dress in a wedding gown bag, 20% off Bridal Party wedding day ensemble dry-cleaning, 20% off dry-cleaning for the parents of the bride and groom.
Get a Personalised Quote for your Wedding Dress
We've got a few questions to ask you to establish the value of cleaning your wedding dress. By gathering this information from you now, it will save you time on your in-store wedding dress consultation – which means that we get to spend more time talking to you in person on the day!
If you have any questions about this service or how a custom cleaning package can save you $$$, please contact us at: [email protected]
clean today and pay later, with afterpay

Pricing
Wedding Gown Dry-Cleaning
P.O.A.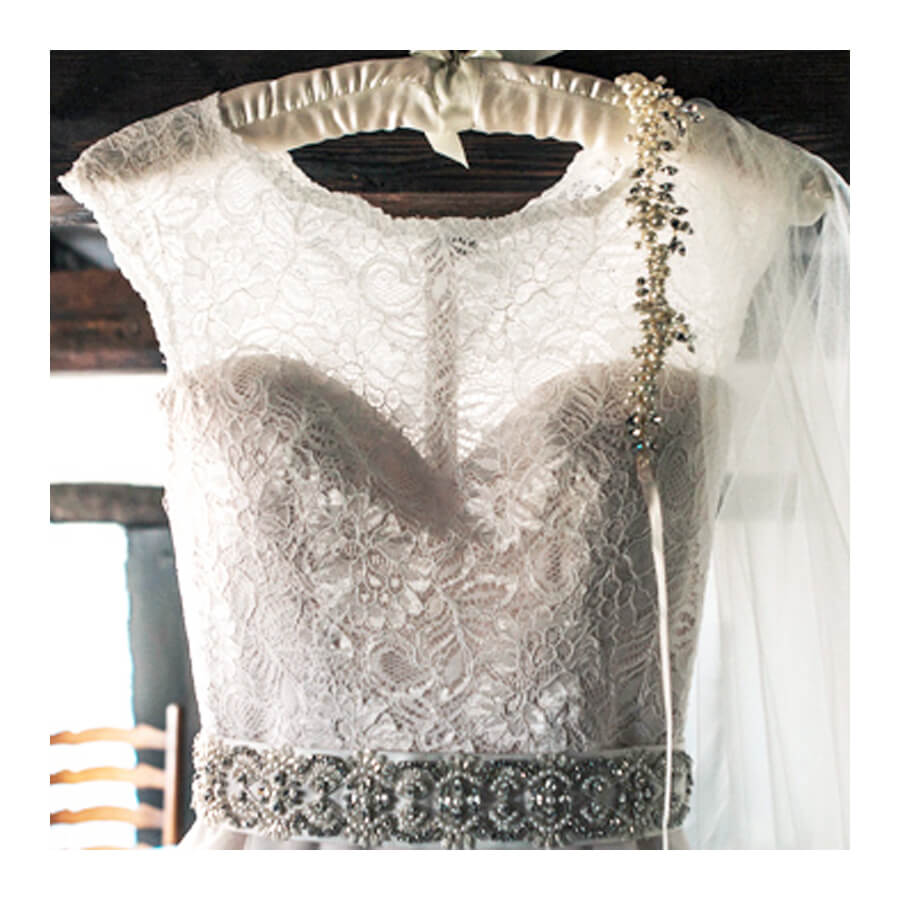 The cleaning of your wedding gown is a personalised experience depending on the needs of your dress.
Get your Quote
Wedding Dress Touch Up
P.O.A.
Give your gown a refresh in time for your wedding. Especially great if your wedding dress is second hand, we will freshen it up before your big day!
Book In Now
Wedding Dress Preservation Box
small $50 // large $70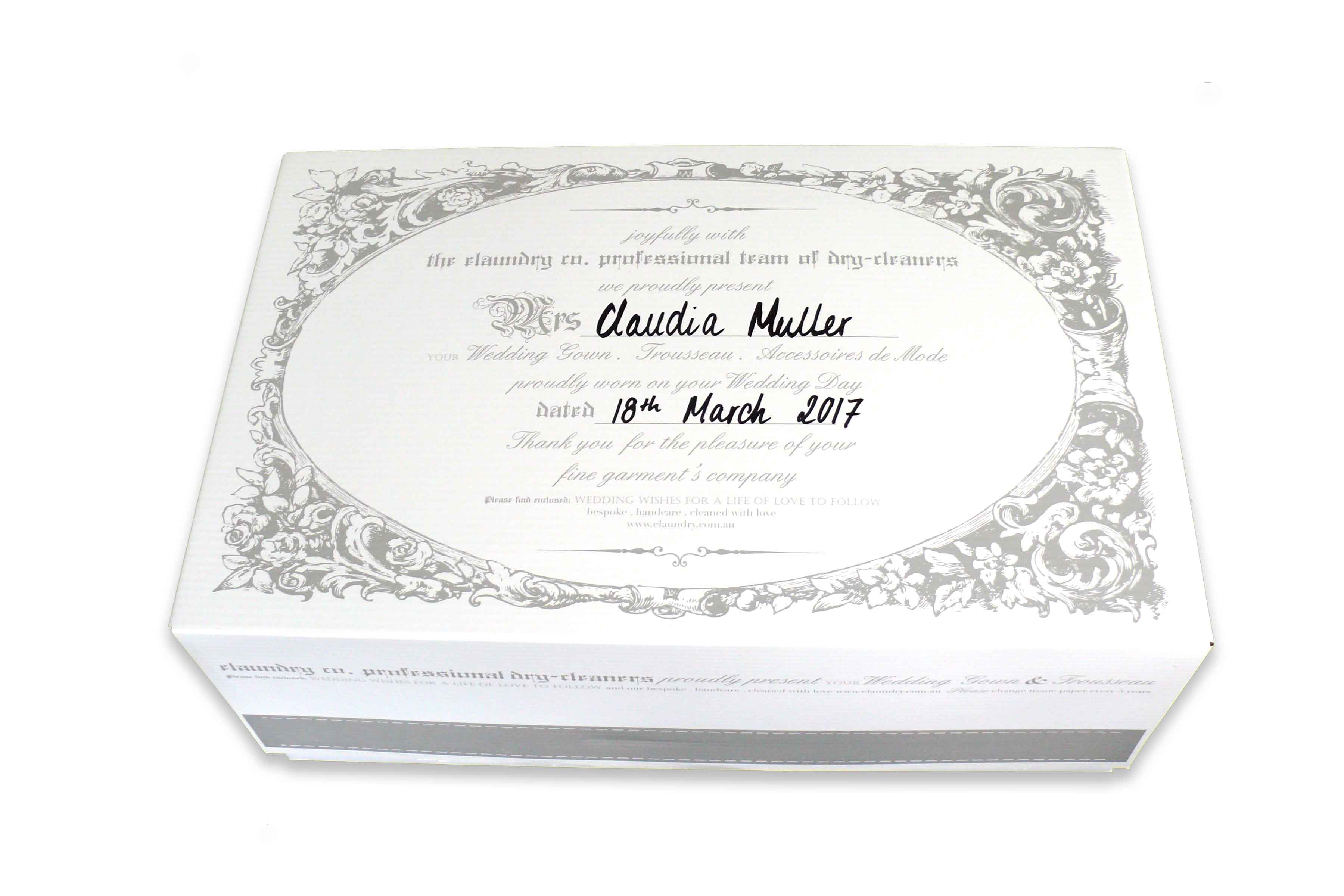 We will provide you with a special personalised box adorned with beautiful artwork in which to store your wedding outfit, which we will wrap in acid-free tissue paper.
Buy Large Box
Buy Small Box
We offer a range of additional services to help make planning for your big day as easy as possible. Speak to us today about adding on any of these wedding dress services to your individual wedding dress clean.
Consultation with the Bride, Designer & Retailer
We will host meetings with the bride to discuss preferences for cleaning conditions and styles, and consult with the dress designer or retailer on the preferred dry cleaning of the dress.
Do you prefer organic, or green earth cleaning? Do you have allergies? Does the dress need to be altered or cleaned before wear? We will find out all of the finer details in these consultations to ensure a relationship built on mutual trust and respect for the beauty and pricelessness of wedding gowns.
Book Now
Valet Pickup and Delivery
We offer a Wedding Gown collection service, available within the Brisbane Metro area. Valet prices for the Gold Coast, Sunshine Coast and interstate are available upon request. We will pick up the dress after the wedding, clean it and hand deliver it to your residence upon your arrival from the honeymoon!
We will provide the bride (and bridal party upon request) with a long-length garment bag clearly displaying the details collected in our registration form, including delivery and care instructions for the benefit of family, coordinators, housekeeping and concierge.
Simply place your wedding gown into our elaundry valet bag, and we will follow all of your wedding wishes from our initial consultation. Our valet drivers have special relationships with the concierge staff of most prestige hotels and wedding reception venues in South East Queensland, so are able to pick up your gown from the event with no fuss.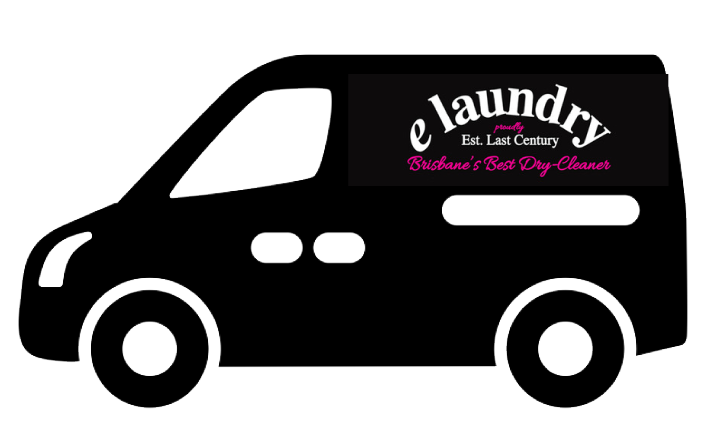 Book Now
Special Cleaning & Mending
We allow 2 weeks for our specialist team of fine fashion dry cleaners to launder your dress to perfection. The team is well versed in quality cleaning and fabric care for delicates such as silk and chiffon. We use only the highest quality cleaning products and machinery to deliver a faultless result.
As well as removing stains, our on-site seamstresses will mend one small tear with compliments. We have a large collection of beads, sequins and clasps on site for delicate repairs for missing beads & embellishments. We will consult with the bride if more repairs are required. Each and every mend will be invisible to the eye. We want your dress to be prepared for the next generation with love.
Book Now
Don't let Dad's boot polish and Auntie Irene's red wine become your most permanent wedding memory!
Wedding dresses can get surprisingly quite soiled on the big day, with everyone wanting to get up close and kiss the bride. As a result, we have found that many brides are passing this knowledge on to their friends to ensure that wedding dress dry-cleaning is not to be missed off the list of budgeted expenses!
Our Top Tips
Stains need IMMEDIATE attention and the sooner we can begin cleaning your wedding dress the greater the chance we have to remove dad's boot polish or those scented lillies' pollen…
Keep in mind that Saturday nights are very busy and bookings for gown collection are essential.
Stain removal pens in the Maid of Honor clutch purse are a great idea!
 A m a z i n g  W e d d i n g  Ideas