Take good care of your dog's leather collar & it will always look like new!
We always want the best for our four-legged friends, and so it's no surprise that we are happy to spend money on beautiful leather dog collars. But what happens once your investment has been exposed to the elements and seen better days?
Louis Vuitton Dog Collar After Cleaning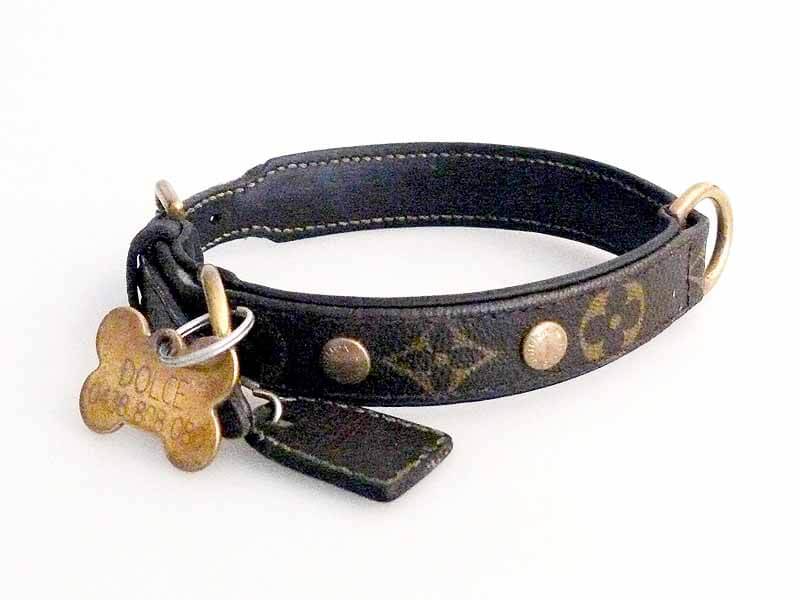 Once mud, rain, seawater and sand have found their way onto your dog's leather collar it's time to give it a thorough clean. A leather dog collar is an investment after all, and when taken good care of it will last for many years – and even get better with age!
Of course, a run through a freshwater stream or play in the rain is not going to do the greatest deal of damage, however, if your dog plays often on the beach and paddles in the sea then taking a moment to regularly clean and condition the leather will help protect and preserve the collar for years to come
Leather Dog Collar Re-Conditioned
Why should I clean my dog's leather collar?
Cleaning your dog's collar will not only save you money on having to splurge on a new leather collar, but it will also prevent any unwanted smells from developing and help keep the skin nearest to your dog's collar healthy and clear of dirt.
Our Leather Dog Collar Cleaning Tips:
Conditioning the Leather: For general maintenance add a little leather conditioner onto a cloth and gently rub it into the collar. This is an especially good thing to do if your dog has been playing in the rain or wet, muddy areas such as lakes, rivers or mangroves.
After the Beach: Saltwater can be particularly harsh on leather, so following a trip to the beach with your dog be sure to rinse the leather collar with fresh water and pay special attention to conditioning the leather as mentioned above.
Take it to a Professional: Although regular care of your dog's leather collar at home is a brilliant idea, there are times when life gets away with you and you realise that more than just a quick clean will be needed to get that collar back into peak condition! That's where the professionals come in. Nothing beats getting your leather fully re-conditioned, which is a service any good dry-cleaner should be able to offer.
Did you know we also clean and repair pet beds, horse blankets and much more for your beloved animals!