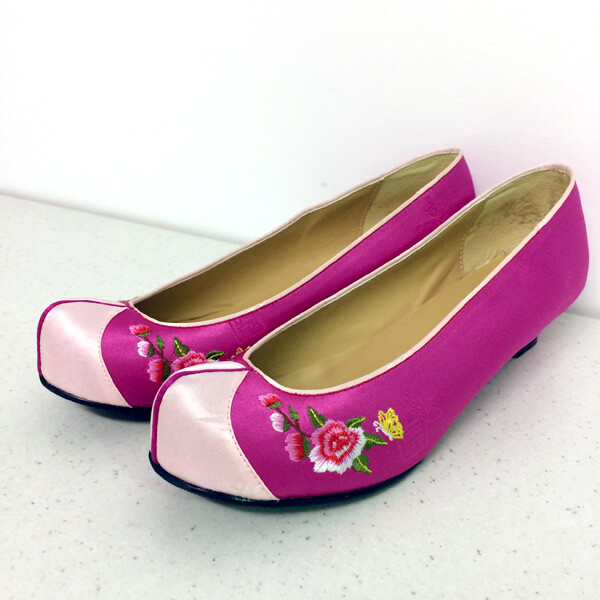 Traditional Korean wedding ceremonies are having a revival…
And we've been called upon with the task of cleaning the wedding dress and shoes!
Whoever may say that tradition is dead is wrong in our books! Looking at the range of wedding outfits that come through the doors at elaundry we think that traditional weddings are still going strong – whatever your cultural background may be!
And so when this hand made traditional Korean wedding outfit was brought in to us for cleaning we were not particularly surprised, but we were indeed intrigued by its style and beauty.
According to what we've been told traditional Korean weddings are a colourful affair, full of excitement, music and dancing. And this dress certainly reflects this – with its vibrant fuchsia hues and delicate yet intricate embroidery. Just image the skirt of this dress spinning whilst the Bride is twirled by her Groom!
Every detail of a traditional Korean ceremony is embedded with meaning – from the dress and accessories through to the food and movements performed – so we knew that this wedding dress and matching shoes were almost a work of art in themselves.
When it came to professionally cleaning the wedding dress we fully assessed the garment to ensure that every step of the process preserved the dress' vibrancy and detailing. We love dry-cleaning shoes, so we were very happy to have the opportunity to refresh the pretty pink shoes that accompanied the dress!


If you would like to learn more about the details of a traditional Korean wedding ceremony then we found this article very insightful.
If you have a traditional dress of your own – from any culture around the world – please remember us when you are next in need of having it cleaned or refreshed. And bring along your accessories too! From head piece to shoes, we can clean it all!
Love elaundry xo