There's often much talk about how important it is to clean and preserve your wedding dress AFTER your wedding day. But caring for your dress prior to your wedding is very important too.
Most of us will have invested a lot of time into finding the perfect wedding gown, and often purchase one many months before the actual wedding day. Whether your dress will be packed away until the big day itself, or tried on a few times for alterations, the way it is stored prior to your wedding will not only affect how it looks on the wedding day itself, but how well it will be preserved for years to come.
How to Care for your Wedding Dress
From Shop to Home
It's best to transport your newly purchased precious dress in your own vehicle with enough room to lay it down as flat as possible on the back seat. This may seem like a small thing, but it will reduce the chance of wrinkles and the need for extra pressing or steaming later on.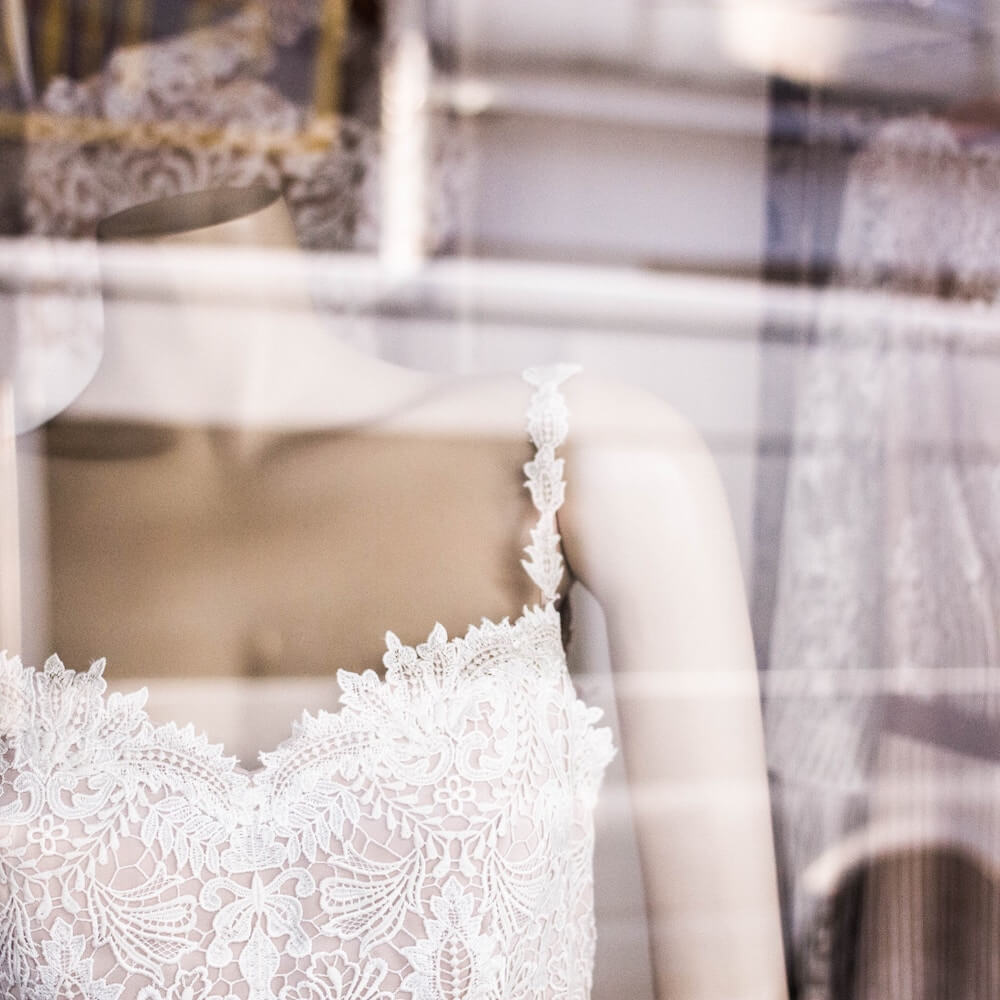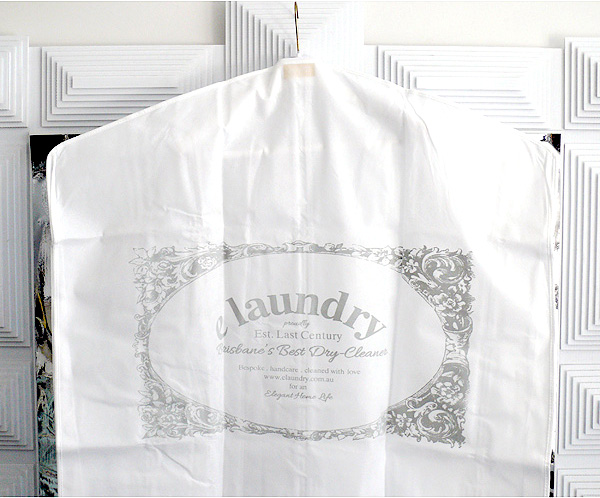 Say No to Plastic
As soon as possible, remove your wedding gown from any plastic covers. Plastic will make it harder for your dress to breath properly, and comes with a risk of potential staining due to chemicals within the plastic that can break down over time. The best thing to use is a cloth garment bag, or else clean cotton sheets wrapped over the top.
To Hang or Not to Hang
The hanging of your wedding dress will depend on its weight. A lighter weight dress or slip can be hung up high on a silk padded clothes hanger, ensuring that none of it touches the ground. You may need to open up the bottom of the cloth storage bag to allow the train to hang down and prevent creases. If you do this, either drape the train over a clean chair or place a sheet on the floor below.
If your dress is heavy, it may be best to store it flat instead of on a hanger. This can be done by covering the wedding gown with a cotton sheet or cloth storage bag (big enough to not crush your dress) and laying it on top of or below a bed. It is best to do this in a "low traffic" room where you can ensure as little disturbance as possible to the dress.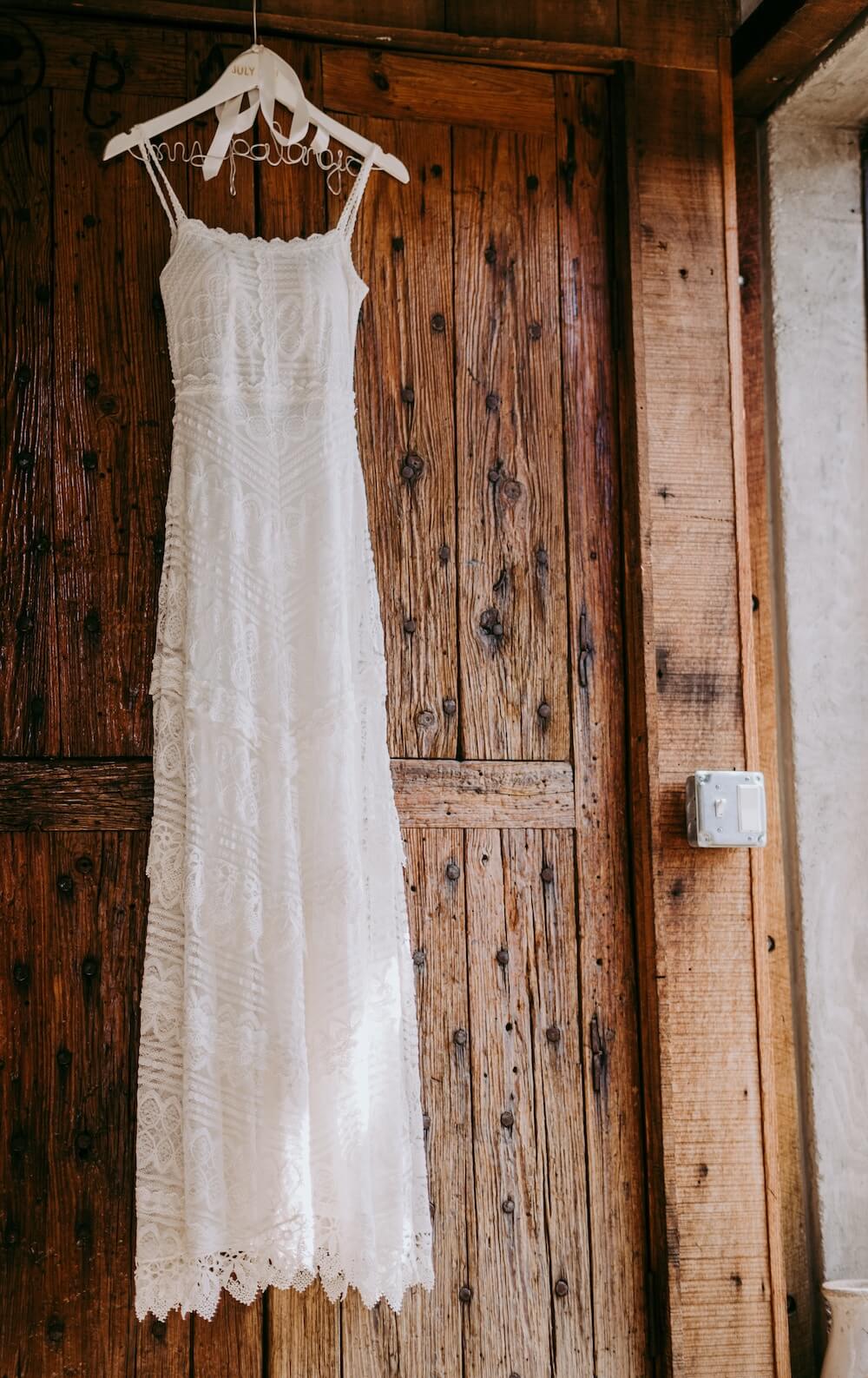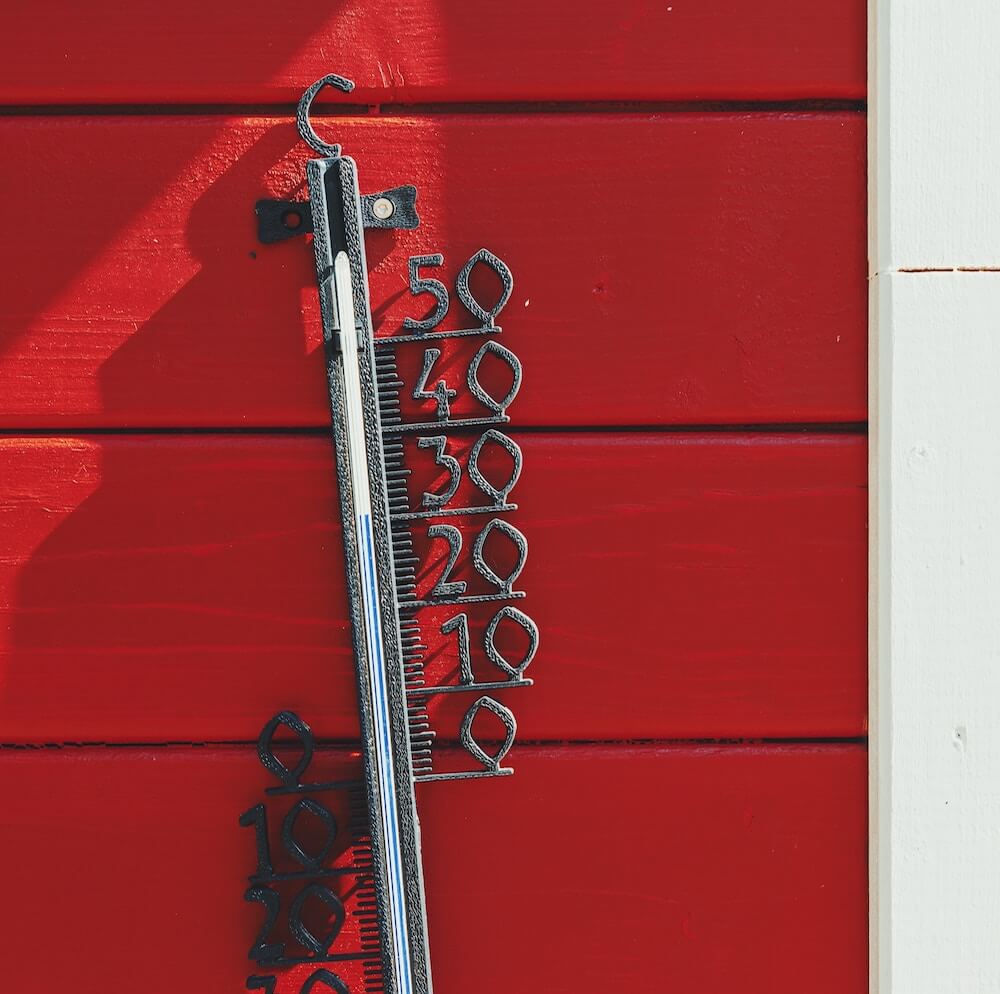 Climate Control
Temperature and humidity can be seriously damaging to your wedding dress. 15C – 24C is an optimal temperature range in which to store your gown, away from direct sunlight or damp. Lofts and basements are not recommended for storing your dress due to temperature fluctuations and potential build up of mould.
Resist the Temptation to Touch
Once you've safely stored your wedding gown away, resist the urge to open it up, touch it, try it on etc. The natural oils on your hands, plus potential transference of cosmetics and deodorant, can all result in stains you will then have to remove prior to the big day. Should the stains be left untreated until after the wedding, there may be great difficulty in ever removing them. If you must try on your dress (eg. for alterations) then remove all your make-up and deodorant and make sure your hands are clean.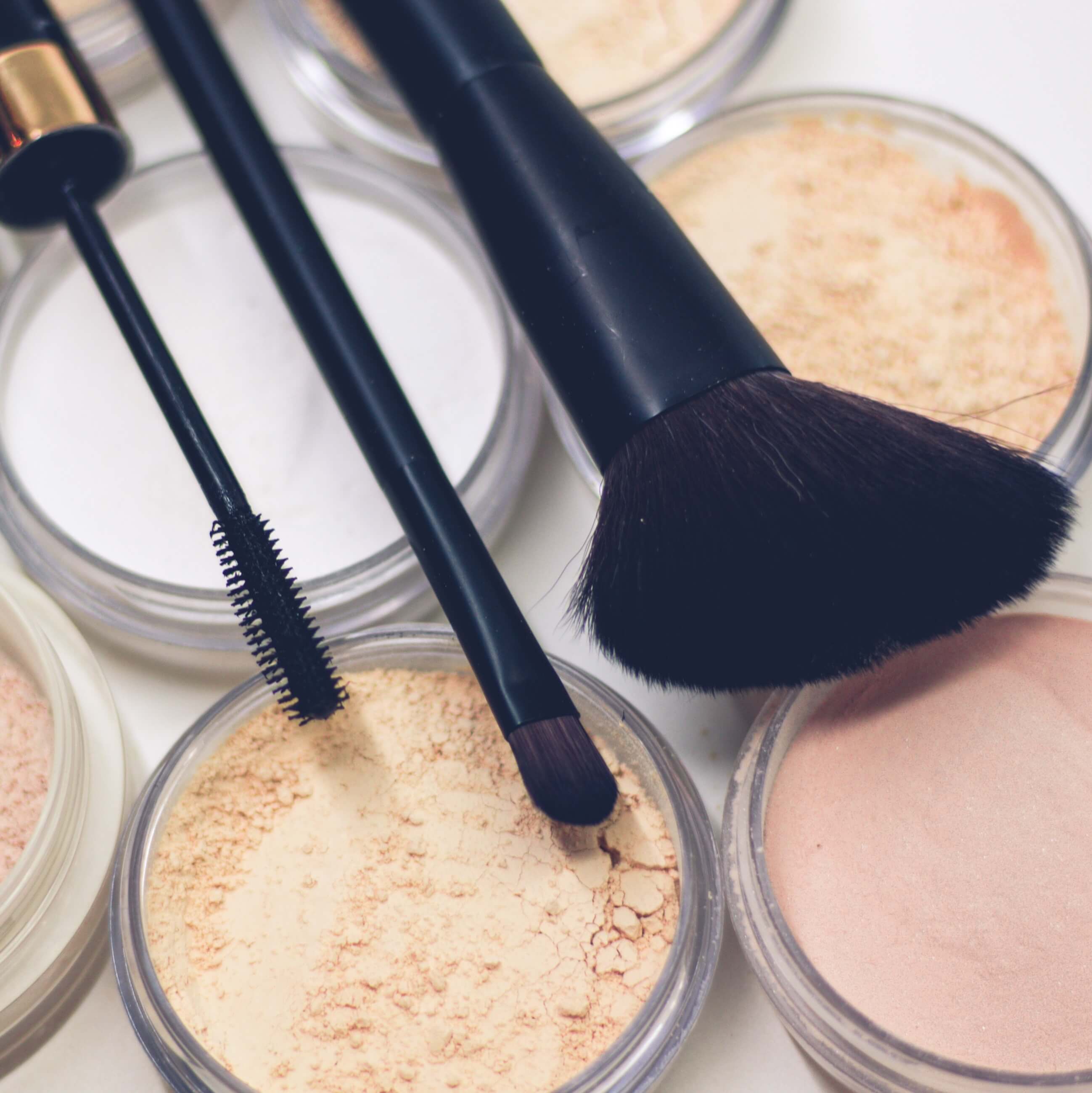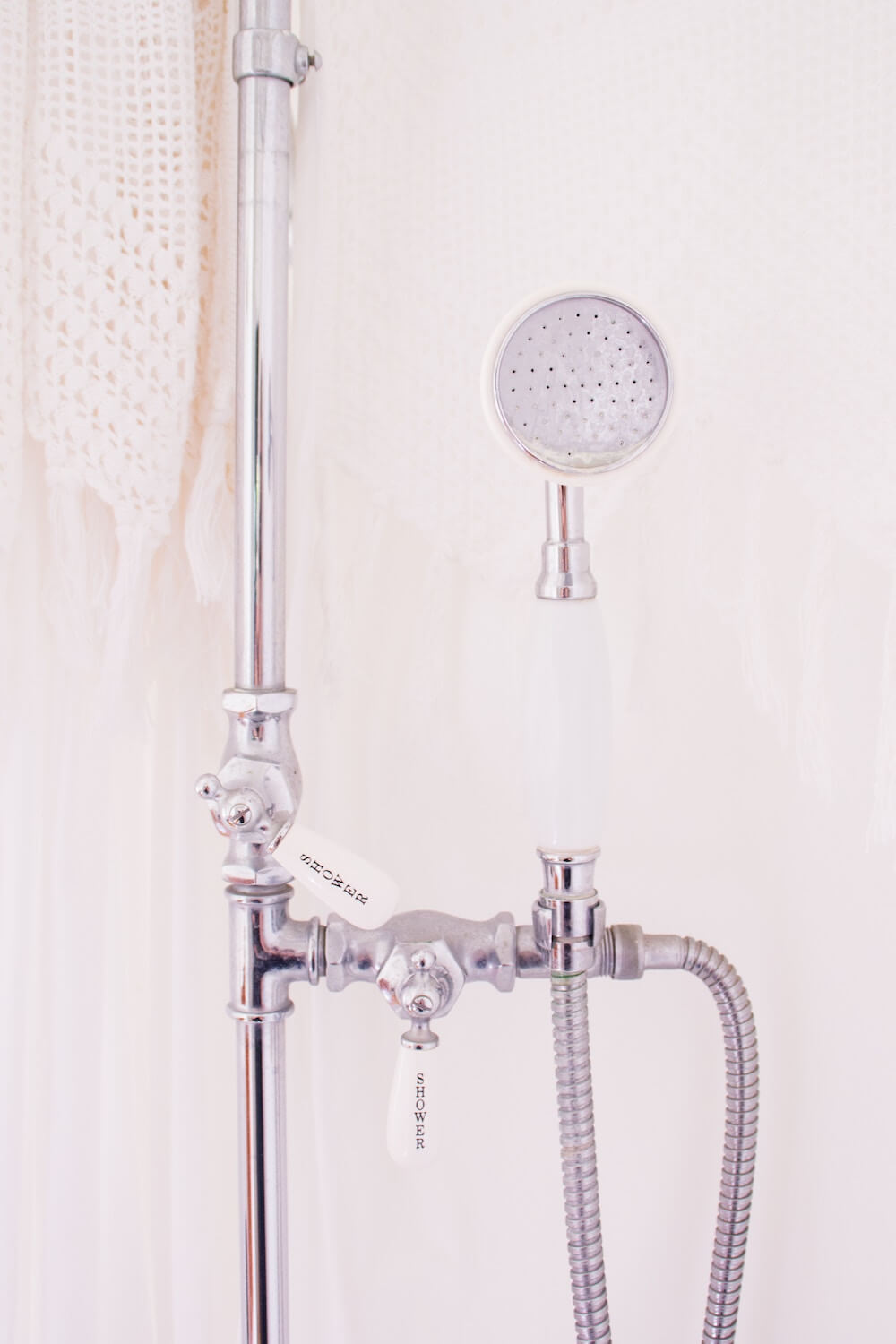 Removing Wrinkles
There are many reasons your wedding gown may develop wrinkles. Whether you have had to transport it a long distance via plane or car, or it got lightly creased when hanging in its cloth garment bag, it's inevitable that a touch up will be required before your wedding day to make your dress crease free.
A couple of days before your wedding make sure to hang your dress up high on a silk padded hanger to allow time for creases to fall out. For any pesky wrinkles that remain, you are best off taking your dress to a professional dry-cleaner or wedding gown shop for steaming or pressing (depending on which is best suited for your dress).
There are a couple of at home options for removing wrinkles on your wedding dress, but be sure to proceed with caution. One option is to hang your dress up in the bathroom whilst the shower is on to allow the steam to help the creases fall out. Just be careful not to get your dress wet! The other is to use an iron to gently press your dress, using a white flat sheet as a pressing cloth between the fabric and the iron. The heat setting will depend on the fabric that your dress is made from. If in doubt, keep the iron on low.
After your Wedding Day
The number one essential thing to do with your wedding dress post-wedding day is take it to a professional dry-cleaner. If you don't have time to do it yourself (it's probably not something you want to get in the way of your honeymoon) then ask one of your bridal party or friends to do this for you. The sooner you get your wedding gown cleaned the better as this avoids stains from sinking in. And trust us, stains of all sorts will have appeared on your dress – from grass and mud, to sweat and make-up. If you're planning on keeping and storing your wedding gown then it is worth requesting a preservation service for your wedding dress too.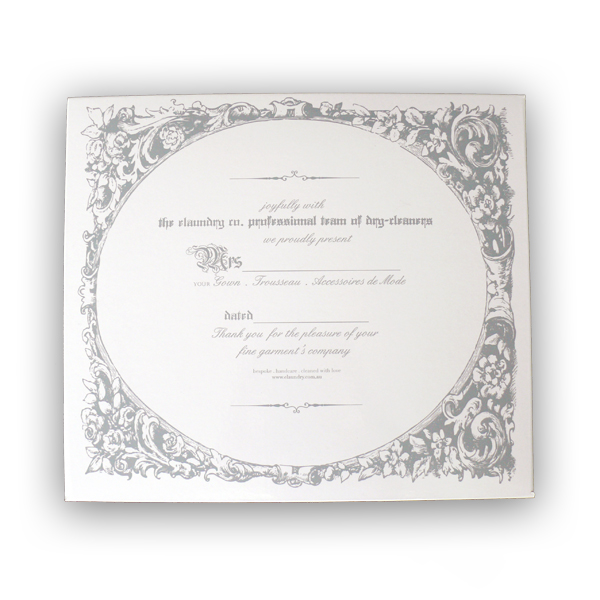 Want to be prepared for all your wedding dry-cleaning needs?
At elaundry we draw upon many years of experience in dry-cleaning, stain removal, garment refreshes, tailoring, embroidery and alterations so as to be able to provide you with a complete in-house service. Visit our Wedding Dress Dry-Cleaning page for more information and a personalised quote for your wedding gown.