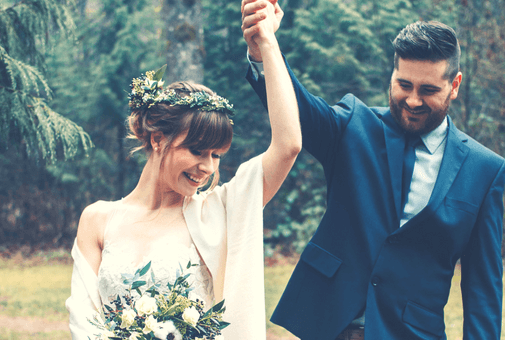 Wedding Dress Storage & Preservation Explained
The time taken to find your perfect wedding dress is one that can be challenging, exhilarating, memory making and full of celebration once the perfect wedding gown is found. Once your dress has been chosen, alterations are often made to make sure that it fits you like a glove.
At the wedding you receive generous compliments, you are hugged and twirled by loved ones, and your dress experiences all of this with you.
So when it's all over, the celebrations have settled down, and you're working your way through that pile of wedding gifts on the kitchen table, why is it that your wedding dress gets left by the wayside? Sure it's in a garment bag somewhere, but it's got scuff marks along the hem and a wine spillage on the skirt.
After so much effort and care, surely your wedding gown deserves immediate attention in order to preserve those precious memories?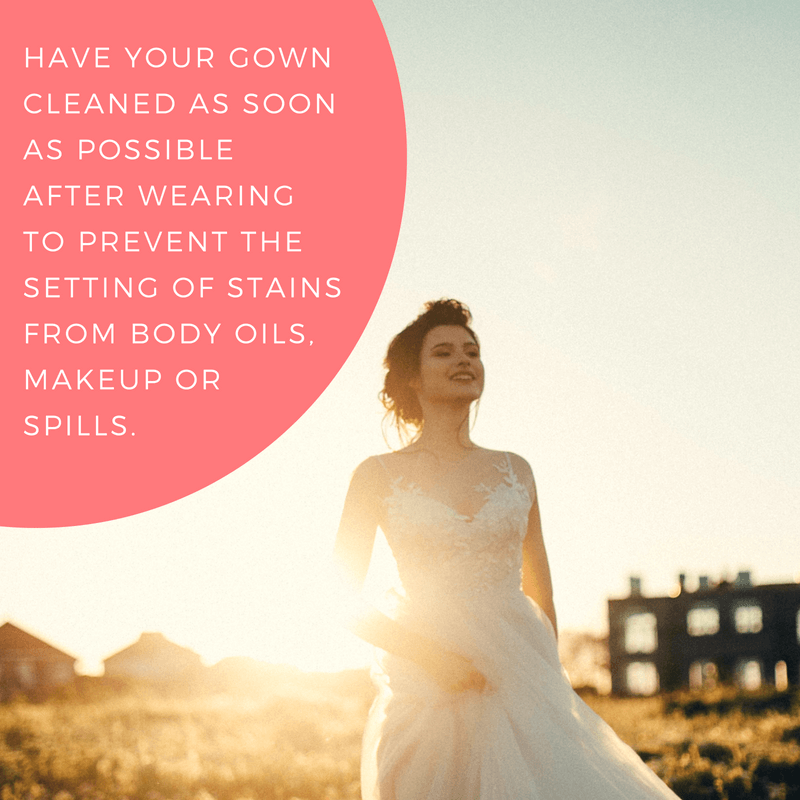 How should I care for my wedding gown after the wedding?
Storing your wedding dress is important for preventing long term damage and maintaining your dress in tip top appearance. If done correctly, storage of your wedding gown will slow down the aging process, which is great news if you hope for it to be used again in the future or would like to save it for posterity.
Because wedding gowns are generally composed of many delicate fabrics and trims they can be sensitive to sunlight, invisible gasses, heat or damp. Fragile fabrics and details include satin, shantung, organdy, taffeta, lace, sequins, beads and rhinestones.
Decorative trims also need to be carefully inspected and discussed with your dry-cleaner before cleaning. Some details, such as beads, glitter, sequins and laces can be damaged during dry-cleaning as their adhesive or coating are not designed to withstand the process. A skilled dry-cleaner will know how to clean around these items in order to get the best possible result without causing any damage.
Did you know… A wedding gown is white due to a fragile mix of fibres, colourings, and whiteners. To minimise yellowing proper storage and protection from light is recommended.
Weddings can get messy, whether you plan for it or not. You may not notice them, yet barely visible stains from food, drinks and body oil can have a nasty habit of appearing over time if not cleaned straight away. This is why it's important to have your wedding gown professionally cleaned prior to storage, preventing any stains (visible or missed) from becoming permanent.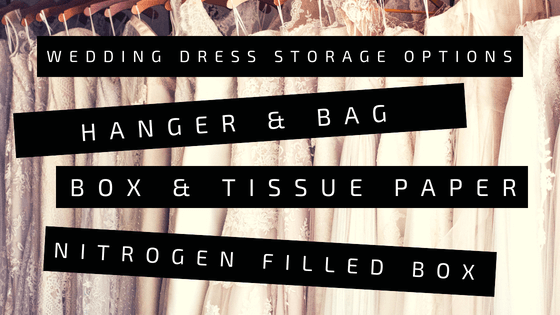 Storage Method 1: Hanger & Bag
For this method your dry-cleaner will clean and finish your wedding dress as normal. It is then recommended to sew straps to the waistline of the dress so that when it is kept on a hanger any pressure of the skirt weighing on the shoulders will be relieved.
Wrap your wedding gown with a protective white cotton sheet or muslin before covering with a gown bag.
Storage Method 2: Box & Tissue Paper
This method stores your professionally cleaned wedding dress in a box with acid free tissue paper.
Because the acid free tissue paper prevents wrinkling and sharp creases it is recommended that folds should also be carefully padded with the tissue paper. You can use a clean washed cotton fabric for this purpose too.
Foam padding (such as shoulder pads), metal buttons or other metallic trim  should be stored separately. This is because these materials can oxidise or deteriorate, which may permanently stain your wedding gown.
Storage Method 3: Nitrogen Filled Box
In some cases it is possible to replace the oxygen in your wedding gown storage box with nitrogen to prevent oxidation problems. Carbon dioxide and argon are other alternatives too. The benefit of CO2 is that it also inhibits bacteria growth.
Wedding Dress Storage Top Tips
Always store your wedding gown in a cool, dry place. This slows the aging process of the fabric. Under your bed is a good spot!
Stuff the bodice with acid free, white tissue paper to prevent wrinkles. This should be done regardless of whether your wedding dress is being stored on a hanger or in a box.
Remove pins, sponge padding, fabric-covered buttons and perspiration shields. Store these separately to avoid damaging the fabric of your dress.
Make sure that your wedding dress is thoroughly dry and that the humidity is low before sealing it in a plastic box or bag. Any moisture that resides in your chosen storage method can cause mildew which results in the condensation of moisture, potentially damaging your beloved gown.
Take a moment on occasion to inspect your gown in storage. Sometimes stains that were not initially visible can appear over time. If this happens, make sure that they are seen to immediately.
Never store your wedding gown in a basement or attic. Attics can get too hot, causing the fabric to yellow. Basements are often damp, which will cause mildew to form.
Headpieces, veils, shoes or other accessories should always be stored separately from your gown.
Don't us polyurethane bags (such as the ones frequently used by dry-cleaners) for the long term storage of your wedding dress. These bags are often made with lots of additives that may cause damage to fabric over long-term storage.